African architects have become the masters of beautiful, innovative and environmentally-conscious buildings.
Sometimes challenges push you towards excellence. It's the case in Africa right now, as architects—faced with problems like population increase, rapid urbanisation, the environment and the high cost of building materials—are thinking out of the box to build intelligent, state-of-the-art structures all across the continent.
The task is enormous: By 2050, Africa's population will have doubled, creating the need for 700 million new homes, 310,000 schools and 85,000 hospitals. And architects are scarce: there are 75 more architects per inhabitant in the USA than there are in East Africa. Erecting fast-built, poorly designed buildings isn't an option. "Construction and building energy use are the highest contributors to pollution and carbon emissions, and are significant drivers of deforestation," says the African Design Centre, a research centre based in Kigali, Rwanda that seeks to promote sustainable architectural projects. "Health risks due to poor urban planning could lead to increases in chronic cardiovascular pulmonary diseases and more frequent pandemics of diseases like cholera and Ebola."
Buildings against illness
Well-constructed buildings are frontline protection for the people inside them too. For instance, in the Burtaro Hospital in Rwanda an innovative natural ventilation system was created to limit the spread of disease.

Increasingly, African architects are also seeking to include local materials in their designs, to limit both the costs and the pollution caused by transportation. Burtaro Hospital again is a good example as it was built from volcanic stone from the nearby Virunga Mountains range.
The Burkinabé architect, Diébédo Francis Kéré, has become adept at using compressed earth and clay in his buildings, and often creates natural ventilation systems to regulate the temperature inside. His sustainably-built Gando Primary School in Burkina Faso received the Aga Khan Prize for Architecture in 2004. His Noomdo Orphanage, near Koudougou (also in Burkina Faso) was built from rusty-red laterite, from a local mine.
The inventiveness of African architects is also helping them to find original solutions to geographical issues: In Lagos, to ensure that the children in the Makoko community can attend lessons during the flood season, Nigerian architect Kunlé Adeyemi designed a floating school. The project was awarded a Silver Lion at the 2016 Venice Biennale.
Termite mounds, hives…there's inspiration in nature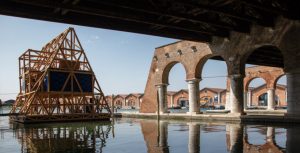 Africa has an increasing number of buildings that stand out for their beauty and their innovation. With the the Eastgate shopping centre in Harare, Zimbabwean architect Mick Pearce found inspiration in termite mounds, and created a low-energy air-conditioning system by drawing on the natural thermo-regulation methods found inside them.
African architects are also masters of transforming old industrial sites into modern-day showcases. Cape Town's imposing grain silo in the docks area, for instance, was transformed into the world's largest contemporary African art museum, the Zeitz MoCAA, and given an interior that looks like a hive with alveoli designs that make you feel like a tiny bee.
Home owners haven't been forgotten
Commercial constructions aren't the only architectural gems on the continent. The 17-floor Nova Apartment building in Nairobi, Kenya features wave-like balconies that recall Gaudi's creations in Barcelona, and received one of the first Africa Architecture Awards in 2016
In Casablanca, Yasmine Immobilier inaugurated Africa's first vegetal tower on March 27th 2018. And in Kenya, on a UNESCO-protected site, the Swahili Dreams project is a forward-thinking luxury apartment complex that seamlessly blends into the local architecture.