A young Ivorian graphic designer is celebrating the wealth and beauty of Africa by creating a different emoji every day of the year.
Who said you need glossy pictures to make you want to jump on the first plane to Africa? Evocative emojis will do, as Ivorian designer O'Plérou proves with his fun, thought-provoking project Zouzoukwa (which means 'image' in Bété). Throughout 2018, he plans to pay tribute to the continent he was born in—its architecture, culture, food, art and music—by creating one Africa-themed emoji per day. 
Some illustrations have been designed to make your mouth water: Look out for the abolo (Ivorian sweetcorn bread cooked in leaves) and the manzani (an East African coconut donut), hidden amid emojis of green oranges, guavas, cassava sticks and mangosteens.  There are monuments there too—Algiers' Martyrs' Memorial and Dakar's Gate of the Third Millenium—as well as musical instruments like the Berber guitar, traditional headdresses and masks, and everyday items like furniture and cooking material, including South Africa's cast-iron Potjie pot.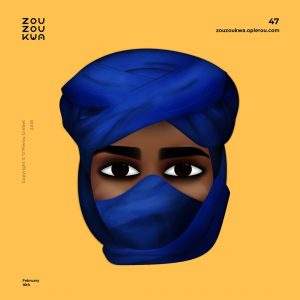 O'Plérou, a self-proclaimed 'creative explorer', says he created Zouzoukwa to share African culture with the world, "because I think it's still undiscovered, despite its beauty and its wealth". His initiative has already caught the attention of "Elle" magazine in the Ivory Coast, which marketed limited edition tote bags decorated with his emojis.
Created in Japan in 1999 by Shigetaka Kurita, the term emoji combines two Japanese words – 'e', as in 'a picture' and 'moji', 'a letter'. They became worldwide successes after iPhone integrated them into its keyboards in 2011, followed by Android two years later. According to Facebook, more than 60 million emojis are sent on its platform everyday.  On Messenger, that figure rises to around 5 billion. In France, the most popular image is the winking face; in Spain and Italy, it's the kiss, while in the USA and Britain it's the laughing with tears smiley. And now there's even more choice: African monument or Berber dish anyone?