Sexual discrimination in the coding world is rife across the globe. Cue Feminism 2.0., as Africa tries to make a change.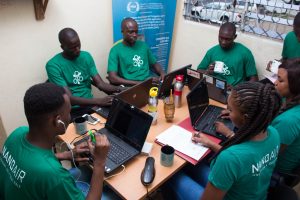 "Computer coding is the language of the 21st Century and our children must master it!"  
The slogan of 2017's Africa Code Week summarises a problem that goes way beyond the continent's borders: There aren't enough developers in the world, and women are vastly underrepresented in the digital technology sphere. If Africa is to stay in the game, things have change.
In the same vein as France's "Osez-Coder" and America's "Women Who Code", the Ivory Coast's "She Is The Code", Kinshasa's "Laboureurs du code" and Mauritius's "You Code" all encourage women and minorities to opt for careers in technology. The Next Einstein Forum (which took place in March 2018 in Kigali), and the Africa Code Week (which broke its own record last year by attracting 1,3 million people from 35 countries) are major events with similar aims, and the Andela tech training centres in Nairobi, Kampala and Lagos (supported by Facebook's Mark Zuckerberg, whose foundation donated 20 million euros) teach technology to women and minorities. A sign that Africa is aware that the feminist struggle goes way beyond the simple idea of equality.
Coding, the job everyone wants
One big challenge is getting young Africans ready for the technology market by teaching them the basics of computer programming. According to the World Bank, only 1% of African students leave school with computer skills. The need for training is immense – even more so for young girls who, like in Europe and the States, tend to avoid the tech world because machoism is so prevalent there.
To become a professional coder, Angela Koranteng had to fight against her father, against the condescension of boys and against the disadvantage of an education system that keeps girls away from technology. Because of this, too many girls don't realise "that coding will become one of the most in-demand skills across all industries," she said to the on-line news media, Africa Renewal.

Steering students towards technology is no mean feat
She has no figures to back up her experience, but she presumes that sexual inequality is even bigger in Africa than in the USA where in 2013 only 26% of computing engineers and 30% of developers were women. In Africa Renewal, journalist Caleb Ibhasabemon also confirms that in Lagos's Computer Village most developers are men.
Fortunately, to bridge the gender gap and fight against cultural discrimination, several structures have been created, including the non-profit organisation, STEMbees. Angela Koranteng co-founded it to accompany women in science, technology, maths and engineering—a difficult task because "girls are naturally more drawn to law, medicine or business."
"Computing's too important to be left to men"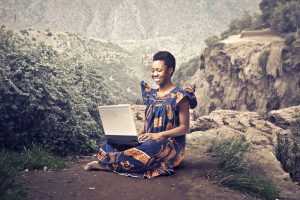 Aware that—as Karen Spärck Jones (computer science professor at the University of Cambridge) puts it, "computing's too important to be left to men"— Google and Facebook are helping to finance women's training in IT. The AWELE academy in Lagos is one such place, as is General Electric's GE Girls, which organises the event " She Can Code ". Ghanaian female-coding success story, Ethel Cofie (CEO of Edel Technology Consulting), has also created "Women in Tech Africa" to encourage diversity in the domain.
A good sign? Yes, says Ghanaian web developer and data manager at the University of Toronto, Marian Tesfamichael. In an article published on the site All Africa, she predicts that over the next few years, "more and more women will fall in love with coding, earn good money and transform their country's economy". If the prophesy is to come true, however, Africa must first stop playing catch-up with other continents and ensure that people have access to home computers.