Kimonos with African fabrics ! Why had no one thought of this before?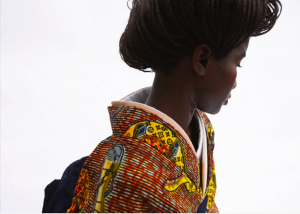 Two of the most easily identifiable things in fashion are the Japanese kimono and the patterns of West-African fabrics. Yet until the Cameroonian artist and designer behind Wafrica, Serge Mouangue, got together with Japanese creator Kururi, nobody had ever thought about mixing the two.
And yet, the result oozes sophistication, crafting what Wafrica calls the "third aesthetic": beautiful, visually unique designs that redefine our idea of origin. When displayed side-by-side, the similarities between the clean, elegant cut of the kimono and the forms of traditional African clothing (especially the boubou and the djellaba) leap out at you. All are made from one large, loose piece of fabric, and all are coloured and/or decorated with bold motifs.
In Wafrica's fashion shows (in New York, Dakar, Basel, Stockholm, Paris, Lyoto, Nairobi and Tokyo) those motifs are primarily Senegalese and Nigerian designs.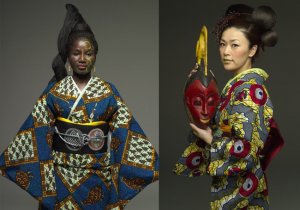 Kimonos presented all over the world
In 2017, the actress Victoria Abril shone light on the marque by wearing a Wafrica kimono to the Cannes Film Festival. But interestingly, unlike other clothes brands, Wafrica isn't seeking exposure for lucrative reasons. Rather it sees itself as a response to the critics who claim that globalization is depriving people of their cultural roots. For the company, the "global village" in which we live allows us to combine cultures in astonishing, yet logical ways.
This forward-thinking philosophy should come as no surprise from a man who has spent his time between Africa, Japan and Europe: 
After gaining a degree in Design and Interior Design at the Ensaama in Paris (National School of Applied Arts and Crafts), Serge Mouangue moved to Tokyo in 2006, to design concept cars for Nissan, before moving back to France to work as Brand Strategy Director for Renault (in 2012).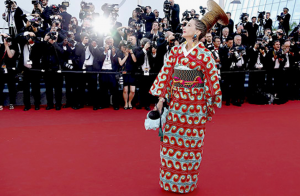 As fate would have it, Wafrica now symbolises even tighter links between Africa and Japan: Back in 2016, at the sixth Tokyo Conference on African Development (Ticad VI), held in Nairobi, Japan committed to providing 30 billion dollars to accelerate African expansion. Over 70 Japanese business leaders travelled to Kenya to promote Japanese trade and major groups, like Toyota, Mitsubishi and Canon came to reinforce links with African companies. In 2019's conference (in Yokohama in Japan), the hostesses are set to wear Wafrica's kimonos, as a symbol of this union.