The must-have Ghanaian menswear label Chocolate is embodying the revival of African fashion
Well-cut, short-sleeved shirts, body-hugging garments made from bright or tribal fabrics, and a tell-tale 'C' sewn onto breast pockets: the hip label Chocolate was founded just 5 years ago by Accra-based designer Kawaku Bediako, but it has already become a symbol of African elegance, catching the attention of stars like American actor Jussie Smollet (who played Jamal Lyon in the musical TV drama series Empire).
The brand's first ever collection was for women, but the designer quickly chose to focus on men, creating three lines—haute-couture, ready-to-wear and tailored suits—that were so successful he was able to launch a new collection called Urban, plus a range of accessories, shoes and children's clothes.
With his in-vogue slogan, "Be You. Be Different", Chocolate encourages men to dress according to their mood. But as this is the fashion world, and you need more than just clever words, he has also become a catwalk regular, organising shows across the continent at events including the International Festival of African Fashion in Niger, Glitz Africa Fashion Week and Radiance Fashion Show in Ghana.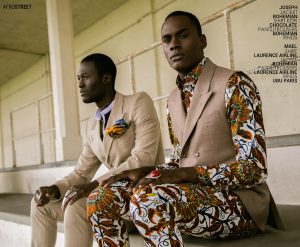 "Afropolitan", a new concept
Chocolate is the trailblazer, but it's not the only brand reviving men's fashion. Ivorian designer Aristide Loua's label, Kente Gentlemen, was launched in 2017, and has already made a name for itself thanks to clever styling that draws inspiration from the three continents he lives between: Africa, Europe and the USA. While on the move between Abidjan, Paris and New-York, Aristide Loua creates designs he calls "Afropolitan", aka classics for today's men that can be worn just as easily on an Ivory Coast beach as in Johannesburg's business district.
African creators are also venturing into streetwear. Senegalese designer Selly Raby Kane's colourful jackets have already caught the attention of fashion magazines like Vogue Italy and WAD. She studied law in Paris, but since launching her brand, has been called the leader of West Africa's alternative culture movement and has moved back to Dakar to open her first boutique.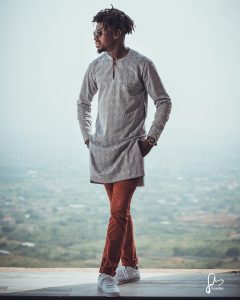 Open a store to get close to your customers
This form of distribution is becoming increasingly popular, because African creators often struggle to find existing traders that are willing to sell their collections. There are web-based merchant sites, such as HâpyFace and Moonlook, but, "everyone has to do it [open a shop] eventually, otherwise they just don't get discovered," Owens Ndiaya explained. The lawyer-turned-designer of his own menswear label, Mr. Ndiaya recently opened a new boutique on a busy street in Dakar, a place for clients to come and try on his made-to-measure suits.
The continent's growing middle classes, coupled with consumers' eagerness to buy products that remind them of their roots are two factors that are helping to put emerging designers on the map. Africa's fashion industry and luxury sector were worth $31 billion in 2016 (according to Euromonitor), which may seem like a huge figure, but it's less than 8% of the worldwide market (which recently reached a record-breaking 412 billion dollars). It's a potential growth margin that's bound to encourage new fashion creators to set up shop and boost the creativity of those already selling their designs.