In just three years, the Atlas Electronic festival—held in Villa Janna, an idyllic eco-lodge in the heart of Marrakesh—has become one of Morocco's most exciting cultural events.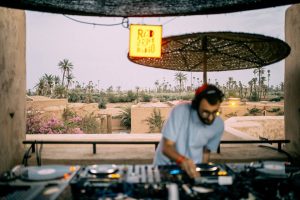 Electro music is to millennials what Rock music was to their grandparents: good staple sound, far from the cries of the unruly parties it was first associated with. Today's DJs pack stadiums and festivals like superstars. And Africa is no stranger to the phenomenon – especially in Morocco, where the Oasis Festival has been showcasing international names in Marakesh for the last five years, and its younger counterpart, the Atlas Electronic Festival, has been doing the same for the last three.
By highlighting Moroccan folklore, and by extension African traditions, while exploring the cultural shock between Western and Oriental cultures and their sounds, Atlas Electronic is yet more proof that the continent has much to offer the Electro world and its followers. Created by Karim Mrabti, it's like an intimate Burning Man, smaller, but just as eclectic and musically diverse.
This year, from August 30th to September 2nd, two thousand lucky souls got to spend 4 days in Villa Janna, a luxurious Casbah-like eco-lodge built from clay and straw, and whose 4 stages (Amphitheatre, the rooftop Red Light Radio, the Pool Stage and the Secret Room) saw the likes of 60 DJs, including international and North African stars like DVS1, James Holden, John Talabot, and Esa Williams. There were also live concerts by Gnawa and Sahrawi groups such as Bana, Maalem Houssam Guinia and Amazigh Blues.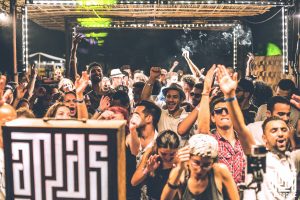 "Africa is the birthplace of rhythms that have been exported around the world"
Is Arabian Electro a new trend? "It's much more than that," said 31-year-old Dex Le Maffo, a Moroccan artist known for sets that mix Folk and Western sound. "It's a movement in its own right. It has huge potential. It allows artists to think out of the box, use their imagination and explore the sheer wealth and volume of Oriental Folk music out there."
According to DJ and producer Rabati, who also mixed at Atlas, "the festival pays tribute to Moroccan and African Folkloric heritage like no other."
"Mixing Electro with Disco, Funk and 80s Boogie creates a whole new sound. The programme is top-notch and eclectic, plus there are experimental electro workshops. There's also yoga and relaxation, while conferences and exhibitions shine light on local artisans. The whole thing proves that artistic assemblies encourage cultural empathy. Africa is the birthplace of rhythms that have been exported around the world for years," added Dex Le Maffo.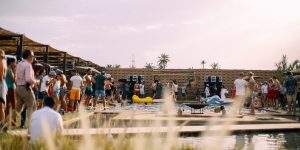 African DJs and producers already working on an international level include Black Coffee, Shimza, Culoe de song, Cee Elassaad, Dj FNX, Adil Hiani,  Hearthug, Kalden Bass, Deena Abdelwahed, Amine K, Kosh and Driss Bennis.
"The future is promising both locally and on the continent as a whole, thanks to the increase in musical collectives and showcase concepts like the Moroko Loko, Hadra Electro, SQNC., and Aperos Electro", Dex Le Maffo concluded.