Fancy some peace and quiet? Head to Île Boulay, a slice of paradise 15 minutes from Abidjan city centre by boat
The largest of the 13 islands in the Ébrié Lagoon (part of the Yopougon district) measures 11km by 3km, and was reportedly named after a former settler who set up plantations there. It's so close to the bustling mainland that the wind sometimes carries the sound of car horns across the water. Most days though, it's just you and the birdsong. In fact, you'd be forgiven for thinking you've stepped back in time. Many of the archipelago's islets—places with mysterious sounding names like Ossibissa, N'gbossroya and Eden city—still don't have electricity or tarmacked roads, and coconut trees outnumber the residents hundreds to one.
Work up an appetite on the boat trip over: Several restaurants have their own fine-sand beaches, like Coconut Grove Lodge on the northern shore, Chez Eric on Kava-Kava beach in the south, and Rosa Beach, part of the chic Hotel Chez Rodrigue (also south), which draws families to its outdoor swimming pool. Other upscale places to dine and stay in include Maria Resort on the lagoon and Romano Lodge by the baie des milliardaires (Billionaires' Bay), the playground to Abidjan's rich and famous residents.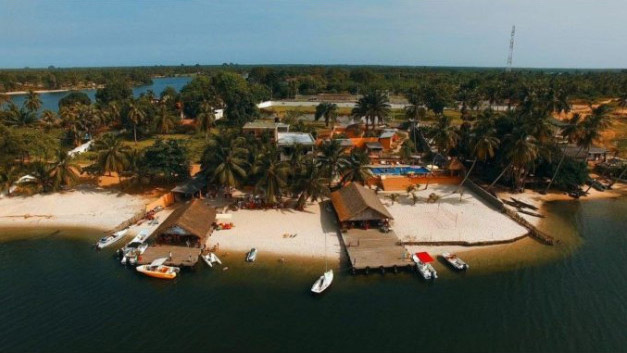 A VIP "HQ"
Billionaires Bay lies amid lush tropical trees and hibiscus flowers, and is peppered by luxury villas used as weekend retreats. Tennis and volleyball courts draw sporty types, while the lagoon's warm waters and beaches make it a hotspot for watersports like water skiing, wakeboarding, jet skiing and windsurfing. In fact several waterskiing champions have trained here, including France's Thibaut Daillaud, who won silver at the 2017 Water Ski World Championships.
To get to the island, a shuttle boat sails from the village of Azito in the Plateau district (groups can rent a 50- to 144-person boat from the company Sotra), and in the not so distant future, a 969-metre-long bridge will span the lagoon, also from Azito. While a bridge is good news, the investment and construction it promises to bring are bound to change the archipelago's atmosphere. So hurry, while you can still have a slice of the paradise to yourself.