There's only one skydiving club in the whole of East Africa, and it's on Diani Beach in Kenya. With décor worthy of a postcard, it's a unique spot for jumping out of a plane, 3,600-metres in the air. My Chic Africa tested it.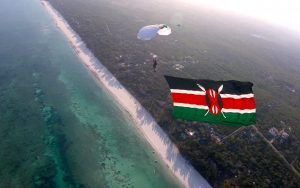 The Earth always looks beautiful from above. Seen through the open door of a propeller plane, it's positively stunning. In fact, so beautiful is Mother Nature's spectacle that you can almost forget your feet are about to dangle in the void, as you prepare to make the jump.
Then it's "three, two, one," and you're freefalling, soaring like a bird for one endless minute, before the parachute deploys and a 6-minute descent lets you float over one of the world's most beautiful lagoons. You land on sugary sand at the Diani Beach Club (where 42-year-old Gary Lincoln-Hope and his team opened the Skydive Diani headquarters several months ago) feeling like a king.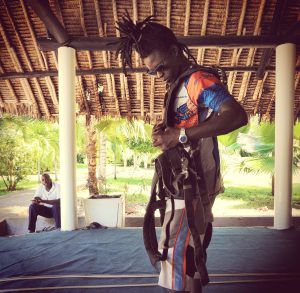 Five years ago, the former British military parachutist decided it was time to turn his back on security management in Mombasa and open a skydiving club. After 13 years parachuting for the British army, "I missed it," Gary said. "Parachuting is my passion and there was nowhere in Kenya or East Africa to do it regularly, so I opened this place." His club employs two other instructors: lngvild from Norway, who has done more than 1000 solo jumps in 2 years, and Angelo, a former member of Croatia's national parachuting team, who has lived in Diani Beach since 2017.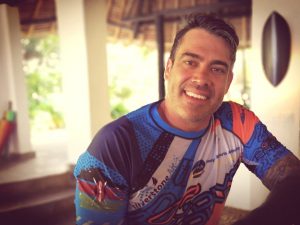 Kenya's middle classes are the main clientele
At first, there was a dip in tourism and business was slow. "So, we jumped every day just for ourselves," said Gary with a smile. Today however, things are different. "In high season, over a 4-month period, we do between 5 and 10 flights a day." And more recently, he has found that 90% of his clientele is from Kenya, mostly from Nairobi or Mombassa where the growing middle classes can afford to spend money on new experiences – in this case, 350 dollars a jump. But it's worth every penny.
Once you arrive at Diani Beach Club, a hostess leads you to a dazzling white terrace with a pool and beach views. Then Gary, Angelo or Ingvild prepare you for the jump in a space dressed up like a chic night spot, while the other employees prepare the parachutes and load the 4×4. Then it's off to Diani airport's sun-baked tarmac, where your instructors fix the harness that will keep you attached to them during the jump.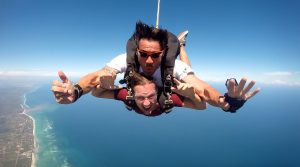 Landing on sand, the Diani Beach perk
From now on they're in control, and twenty minutes later you're flying above the clouds, squeezed up close to your instructor like a sardine with just 30 seconds to go. "Are you ready," they say. You move towards to the door, and place your bottom on a rail with your feet dangling in the air. You push your head back. The wind batters your mask. You can just make out the blue-green waters of the lagoon below. You ask yourself, "what am I doing here?", as your stomach knots and your heart pounds. Then your instructor jumps and you're in the air. The fright lasts for about 3 seconds. After that, it's pure pleasure.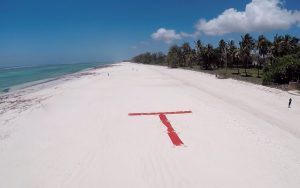 The next few minutes, fly (quite literally) like the wind, and before you know it, you're sitting in the sand wondering why it all went so fast. "There are few places on earth where you can land on the beach," Gary explained. "This landscape is unique. Its colours, the calm of the reef-protected lagoon. For me it's the best place in the world to skydive." We're inclined to agree.