Marrakesh is a tourist destination extraordinaire, but unless you have a local to show you around, it can be hard to find its lesser-known treasures. Enter Insiders, whose tours take you off the beaten track in a sidecar.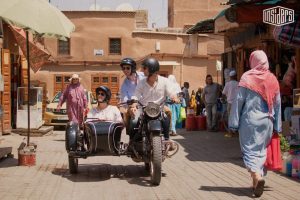 There's a whiff of exoticism around the three-wheeled sidecar. Invented in the 19th-century as an accessory to a bicycle, it was soon adapted to motorized transportation and used in World War II as a military machine, before becoming popular in the 50s as an inexpensive alternative to the motorcar. It cries out 'vintage', 'freedom' and 'escape', and what better way to visit a city, than with your wind in your hair and the sun on your back?
"The sidecar throws you back to a bygone era, and lets you see places in style," says Thomas Chabrières, founder of Insiders, which in addition to Morocco, has offices in China, where it first opened ten years ago.
The company's aim is simple: offer vintage sidecar tours in areas that haven't been hit by mass tourism. "Our guides are like the local friends you never knew you had," he says. "They give you an insiders' slant on city life, showing you things and sharing stories that will hopefully make you love Marrakesh as much as they do."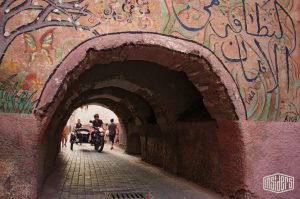 Ride the sidecar for an hour, a day or a week
Fancy private access to a 1920s villa? Or to a rooftop terrace that offers sweeping views over the Medina? Or perhaps you'd like to see an old-fashioned crafts workshop, drink tea in a historic house or take a detour through hidden lanes that whizz you back in time? The tours don't just cover Marrakesh. Insiders can take you to five other destinations, including the Atlas Mountains and the Agafay desert, on trips that last a day, several days and even a few weeks.
"I love the uniqueness of sidecars," says Thomas Chabrières, who, in 2011, rode between Paris to Shanghai in one, before bringing Insiders to Morocco upon the request of Club Med. "We have all of Morocco's sidecars, four in all. It's a friendly-looking vehicle that can't go very fast. People smile at you and wave. Even the police nod amicably when you go past."
"A fabulous ice-breaker"
"When you ride in one, you're in the city, but you feel protected. You don't have to watch where you walk. You think you're going to take lots of photos, but you end up waving like the Queen of England, and posing for other people's photos. It's a fabulous ice-breaker," Thomas adds with a smile.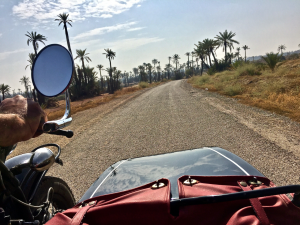 He first fell in love with sidecars in Peking, when a former soldier (then working in a cafe), sold one to him. "I had my mid-life crisis age 27 and left an ex-pat job to follow my passions: travelling, meeting people and sidecars. I joined forces with a French guy who was an encyclopedia about Shanghai's history. We had no business plan, but six months later, we were working like crazy. Ten years later, we still don't have a business plan," he laughs. But he can gloat: a member of the Moroccan royal family travelled in one of his sidecars and reportedly loved it.
At age 38, now living in the Red City with his wife and daughter, he says the next step is to have ten more sidecars in Marrakesh and create a franchise to develop the concept. "I love mad projects where you have fun and learn along the way," he says, inadvertently, but rather fittingly, describing what it's like to take an Insiders tour.