Mehdi Qotbi is a world-renowned artist, an avant-garde painter and a man of letters. He's also a friend to the powerful and the president of Morocco's National Foundation of Museums. My Chic Africa caught up with him at his home in Casablanca.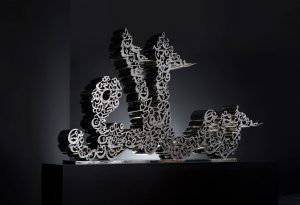 "I'm shattered, but come in anyway. We'll do it now." His voice is warm, but you can tell he's spent the last forty-eight-hours travelling. After flying back from Singapore, he has just returned from Rabat's Musée Mohammed VI, the city's Modern and Contemporary art museum, where he inaugurated the 2.6 metre-tall, 550-kilo statue, Guerrier Debout (Standing Warrior), by Sengalese artist Ousman Sow. "A symbol of Morocco's Africanity and the roots it shares with the continent," he rejoices.
We had heard that Mr. Qotbi is disarmingly friendly. He is. But he's also very down-to-earth, which comes as a surprise when you know that he's a Commander of the Legion of Honour and of the Arts and Letters in France, where he lived for 30 years before moving back to Morrocco in 2006. Perhaps it is because—in his own and surprising words—he has "spent (his) life looking for love"? Something he found in art as an illiterate young boy fleeing a violent father. It was his meeting with his mentor, the artist Jilali Gharbaoui, that helped spark the career that turned him into the international icon he is today.
Now in his sixties, Mr. Qotbi is—along with Pablo Picasso—the only painter Aimé Césaire ever asked to illustrate his poems, for his book Ausculter le dédale.
"Passion is what drives me," Mehdi Qotbi says, sitting on his terrace in a traditional black djellaba. "It is the light of others that illuminate my path," he adds a little later. Shedding light is also the theme of his new book Lumières africaines (co-authored by French gallerist André Magnin), which aims to explain the place held by art and culture in todays' Africa.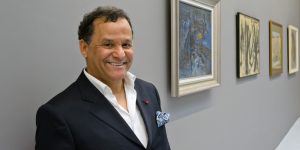 Where does Africa stand today in terms of promoting culture to increase tourism?
In Morocco, huge progress has been made. People are talking about the country all over the world. Right now, for example, Rabat's Musée Mohammed VI d'art moderne et contemporain, has assembled the works of Modern greats like Picasso, Braque, Miro, Mathis, Kandisky, Tapies and Dali. Last year we did a retrospective on Picasso, before that it was on Giacometti, and before that, César. Next year we're covering the Impressionists. Morocco's museum offerings are some of the best and most visible in the world. The country has become a hub for Africans to see exhibitions they can't get to in Europe without a visa. When someone stops me in the street and says "thank you for teaching me the real meaning of the word, museum", I feel very proud.
Has culture ever been more popular in Africa than it is now?
Culture helps countries like Morocco develop both economically and socially. Earlier today in Rabat, for example, at the Massai warrior statue inauguration, around a hundred children between the ages of 14 and 18 had travelled from all around the country to be there. Even the poorest families. They made the sculpture their own by taking photos with it. The sculpture sends a strong message to the world: that African creation is recognized first and foremost in Africa. That a work by an artist as important as Ousman Sow is exhibited in one of the world's most important modern and contemporary art museum is a strong message. We are not just turned towards Western modernity, but to Africa's modernity, which is the source of all modernity. We tend to forget that the modern era, which for me started with Delacroix, was inspired by the light, shapes, forms and colours of Africa. Modern and Contemporary art was transformed by Africa's influence.
Do you think this is something the continent is only just understanding, and that knowledge of it will spread around Africa?
In terms of Morocco, because it's what I know best, when I see children from modest backgrounds rushing in to a museum, I am filled with hope. Hope that this young generation will be open to culture. Open-mindedness can only exist if you understand your own history. That's why we revamped the Musée de l'Histoire des Civilisations (history and civilisation museum) and opened the Musée des Cultures Méditerranéennes in Tanger (Mediterannean Culture museum), the ceramic museum, the Confluences Museum, and the Musée nationale du tissage et du tapis (tapestry museum) in Marrakesh, which was a huge success. We had 10 000 visitors in less than a month, which is a lot for Morocco.
If culture is to speak to today's young Africans, does it need to it adapt to them or should they adapt to it?  
We need to find the right language to encourage their interest. We need to awaken them to it. A museum isn't a dusty place, but somewhere alive, and we must keep it vibrant by finding the language that today's youth will understand. They are the visitors of today and of tomorrow. They need to understand where they are from, their roots. When a young person comes to see our collection of Roman bronzes in the Musée des Civilisations—one the most beautiful in the world—he or she will understand that his or her own history is anchored in Roman history, in Judaism. It's a way of opening people's minds to show them that Morocco is what it is today because of a multitude of influences. Morocco is a melting pot, and looking back at its various African roots is enriching.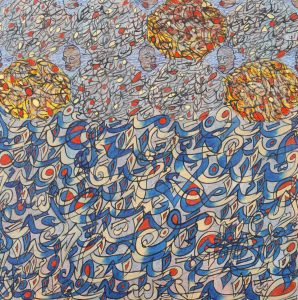 How is Morocco's artistic scene fairing today?
It is unbelievably rich, vivacious and creative – like all over the continent. Morocco's art world is one of most active in the Arab world, thanks to a royal endeavour to put culture at the heart of politics. Picasso had never crossed the Mediterranean before now, ditto for the Impressionists and Rabat's current exhibition. These are African premieres. Morocco's scene is audacious and that's good because it's audacity that moves things forward.  
As an avant-gardist artist, do you think that artistic audacity is better perceived today than before?
I would say received not perceived – in terms of preparation, education and cultural understanding. Being open to the culture of others requires you to understand your own. The Bible says, "know thyself". It's very important. But audacity requires capital. A musician needs an audience, and a painter needs a place to show off his or her work.