Stéphane Atlas worked in parliament, before becoming a journalist, a PR wiz and the patron saint of Marrakesh's upscale dining scene. It's her face everyone wants to see at their restaurants and parties, and now, after 20 years in the city, she has opened a luxury concierge service. My Chic Africa caught up with her.
"Ah, you're with Stéphane…" No need to sweet-talk your way into the most exclusive spots when you're with Ms. Atlas. She— the extraverted fifty-something daughter of a French antique dealer (a Richard Gere lookalike)—is an institution in Marrakesh and the key to opening any of its doors.
Nicknamed the Red City's "Michou" or "Régine" (two of Paris most famous nightlife figures), the former owner of Djellabar has managed to become an influencer without being a web celebrity. Stéphan Atlas address book is thicker than a telephone directory, and so My Chic Africa went to her whimsical Hivernage apartment to get the low-down on what's hot in Marrakesh right now.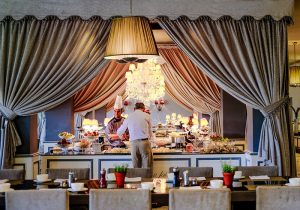 The word "influence" is often overused, but how would you describe yours on Marrakesh's nightlife scene.
When you arrive somewhere where you can build something from scratch, you end up impacting that place considerably – at that moment in time, but also afterwards. Because once you have helped to shape a scene, you become a reference for those who follow.
The city has changed dramatically over the last twenty years. What has influenced its evolution?
The city is in constant mutation, with new things happening every 3 or 4 years. Lots of expats have brought new ideas and technology with them, causing sectors such as design, craft and art to evolve considerably, chasing away those who were there before. The trends here are numerous, and largely depend upon the backgrounds of the movers and shakers who kick-started them. The chic Les Deux Tours hotel is a perfect example of this: With its organic vegetable garden and desire to create a sense of simple luxury, it's a den of Zen in the tranquil Palmeraie area, where stars come to get away from it all.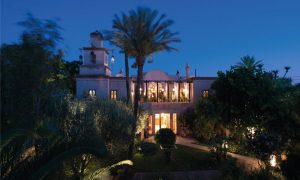 What defines today's nightlife and food scenes in Marrakesh?
Over the last fifteen years, the types of venues—restaurants in particular—have changed immensely. Over the last few years, the sorts of places that are hip in Europe have started appearing in Marrakesh, with surges of them opening every 2 to 3 years. There are around 500 restaurants in the city today, catering to every taste, and 10 or so clubs, including places like Le Theatro and VIP Room, which have become behemoths of the night scene. The style of music, atmosphere and clientele all vary. There really is something for everyone.
The city's high-end hotels are also becoming playgrounds for Michelin-starred chefs – like Yannick Aleno at the Royal Mansour and pastry chef Pierre Hermé, who is both opening a pastry shop and taking over the dessert menu at the Mamounia, a first for Africa. Recently, the 5-star hotel chain Be Live Collection asked starred chef, Henriqué Sà Pessoa, to come on board, and the chefs at the Sofitel are systematically from the Bocuse school. In fact, the institute comes to the hotel to further training every year.
Culinary "meetings" are organized throughout the year by grand establishments like the Ksar Char Bagh, which brings together two top chefs for one-off meals, as does the Pearl (in Hivernage), which offers mind-blowing views onto the old ramparts opposite the Mamounia. Marrakesh's dining options are seriously diverse – from street-food stalls and organic salad bars to ultra-posh restaurants. If you want to dine and party with the international jet set, head to Bo Zin. The food is sublime.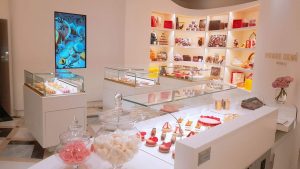 Marrakesh both hides its treasures and likes to see and be seen. Is it this paradox that makes it such a rich city to visit? 
Absolutely! Marrakesh is a city that will win you over with a smile. But you'll never get to see its 'real' side unless you spend time here, or know someone who can open its hidden doors. When I arrived twenty years ago, there were just a handful of eateries, mostly time-honoured restaurants in the medina (Stylia, Yacout and dar Marjana) and a couple of European spots for expats. Dining took place behind closed doors, in people's homes, away from prying eyes. And of course, the people who attended and organised these dinners were the ones who shaped the city's nightlife scene—all sorts of people from artists and designers, to writers and painters looking for inspiration in the city. I was lucky enough to go to the parties Yves Saint-Laurent and Pierre Bergé organised for their friends. And they loved hosting parties. The eccentric designer/decorator Bill Willis used to hold extravagant dinners in a raid in the medina, where you'd meet people from all over the world. The antiques dealer, Adolfo de Velasquo, who had a boutique in La Mamounia, lived next to the Majorelle gardens where he threw cocktails parties. Then there was Luciano Tempo, an Italian antiques dealer who lived in the Kasbah Tamadot (Richard Branson's home today) where he hosted wild dressing-up parties. 
Another Italian, Giancarlo, a showman and an excellent cook (who took over the Trattoria in 1979 from the legendary Ruspoli, owner of the Maison Arabe) would get the local jet set together around a dinner of homemade pasta. Alas, all these people are gone now. They were, without doubt, the reason the city became a party capital that it is today.
Oh, and I nearly forgot: Xavier Guerrand Hermès, founder of the Hermès fashion house, used to organise candlelit dinners in his sumptuous riad, and Christine and Aziz Alaoui—a wonderful couple, and scholars—were a huge part of the scene too. They lived in one of the first villas of the Palmeraie, in a house whose interior design and furniture was adored by Serge Lutens. With his high-profile parties, Jawad Kadiri (owner of the first Mandarin Oriental, then the Taj Hôtel) radically changed Marrakesh's landscape and investors came in mass. I witnessed all of this evolution and was an integral part of it too. I think it's only the beginning.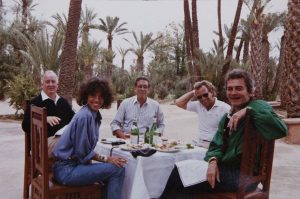 What role does Marrakesh play in Africa's nightlife scene?
Honestly, I think it is THE nightlife destination of Africa. I often call it the Ibiza of the Arab world – though obviously with rules specific to a Muslim country. I would say Marrakesh is one of the top 10 party capitals, like New York, L.A, London, Miami, Cancun, Ibiza and Barcelona. 
If a My Chic Africa reader had 72 hours in Marrakesh, what should they do?
First off, have breakfast at the Sofitel, or in the medina, amid warrens of bustling artisan-filled streets. You could start with a glass of orange juice, squeezed in front of you on Place Jemaa el Fnaa, a city square that never sleeps. Then sample a Mesmen or a Baghir (a local pastry with holes filled with honey from the Atlas Mountains), washed down with mint tea. Eat lunch in the sumptuous gardens of the Beldi Country Club, or at La Paillotte, which serves refined cuisine in an African hut, or at Omar, which serves traditional tagines at Lalla Takerkoust, a beautiful and secluded lake. The area around Marrakesh is wonderfully green. In the afternoon, you could go to the Palais Rhoul, my favourite spa and hammam.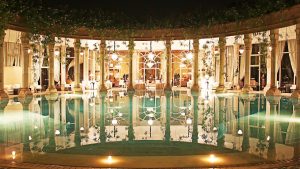 It's enchanting, like a secret palace straight out the Arabian Nights, and lots of well-known people go there. Start your evening with drinks at the Royal Mansour bar, a luxurious oasis, followed by dinner at Bo Zin, or at Comptoir Darna, where you can watch a belly dance show and listen to fusion music. If you're looking for calm and exceptional cuisine, my favorite spots are Stylia, in a traditional palace in the medina, and (my fetish address) La Trattoria, where excellent Italian cuisine is served by an outdoor pool, and the owner, Mohamed Anaflous, pays attention to every detail.