Alia Baré, Owens Ndiaye, Hélène Daba, Mamadou Thiam: these are the new faces of Senegal's fashion world, and their success stories are inspiring. My Chic Africa caught up with them.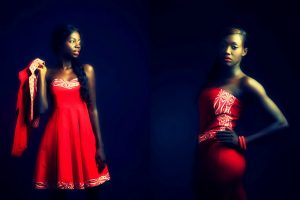 Sitting in the garden of her house in Dakar, talking about how she got into the fashion industry, Alia Baré looks like one of the catwalk models she dresses – elegant and refined. Suddenly a woman appears, a European ambassador's wife who is trying on a dress. The designer answers her questions patiently, before turning her attention back to us. Her label Faith to Faith has become the must-have brand throughout the country, and nothing can draw her away from it.
The thirty-six-year-old gave up a career in business to launch her fashion label several years ago. As the daughter of former Nigerian president, Ibrahim Baré Maïnassar (assassinated on April 9th, 1999), she studied at the Lafontaine school in Niamey, passed her baccalaureate exam in Dakar, then studied international business in Paris, before working for banks such as HSBC and Crédit Lyonnais.
It was after living in India and Singapore that she decided it was time to turn her back on finance to study fashion at the Raffles Design Institute. "When you're from a well-to-do family and you've had a good education, everyone tells you not to take the risk. But I didn't want to stay in banking and become a desperate housewife," Alia Baré explains. "I'd reached the end of an era in my life and needed to return to Africa. My mother was already here in Dakar, I'd studied here and I like the sense of security and stability you get in Senegal. Plus, there are excellent dressmakers here." In 2015, she started to make her first models in a small workshop next to her house.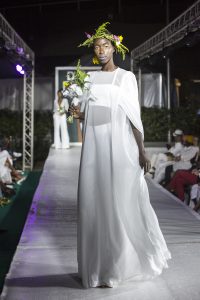 Elegant, well-proportioned lines
"It was trial an error initially, but now I have defined my own style," she says. "I only make made-to-measure clothing and I always adapt them to my clients' requests. I want to create elegant, well-proportioned lines, and I like to design the patterns on the materials and lacework myself. As soon as I make any money, I buy machines for the workshop and hire dressmakers. I have five people working for me today."
Her success, which includes the recent launch of a menswear line, is part of a larger movement in Dakar right now. "There's an ever-increasing number of designers presenting their first collections here," she says. "Youngsters are coming back to Senegal after living abroad, and more and more consumers want clothes that have been designed in Africa."
Men can do it too
Owens Ndiaye, whose men's brand bares his own name, is inclined to agree. "Ten years ago, everyone said that fashion would never take off in Dakar, but look it today! There's an increasing number of new designers doing fabulous things," says the former law student. "I started designing my own clothes in my first year at law school; the tailor below my house made them. Then my friends started asking me to design their outfits. I finished my studies in 2011 and opened my first boutique the following year."
Today the entrepreneur, recognisable by his bow-tie and sunglasses, owns two shops and employs thirteen people. His collections have roots in the African tradition. "My prêt-à-porter and made-to-measure lines mix modern and traditional styles," he says. "I create classic clothes like boubous and tunics, then I modernise them with contemporary cuts and materials."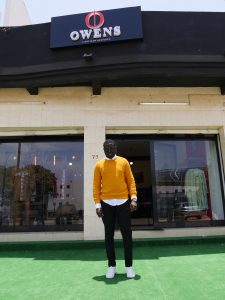 Sisters of Afrika
Thirty-three-year-old Hélène Daba's story is similar. After a career in modelling, she studied fashion at the l'Institut des sciences et métiers de la mode (Ismod fashion school), then founded the label Sisters of Afrika with her six sisters. "I started by my drawing my own clothes, and suits and dresses for my friends, before finally launching the label in 2013," she says. "My style is for women from all walks of life. My materials are African, but the cuts are modern. We have shops in Dakar and Brazzaville, and we'll soon be opening one in Abidjan. You can also buy our collections online. In fact, we plan to open up all over the continent," she adds. "African women want local products, but they're increasingly demanding about the quality of the clothes they buy."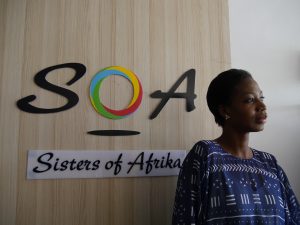 Dakar is also home to highly competent artisans, without whom these designers could exist. Shoemaker Mamadou Thiam is one of them. He has been working since 2001, but only opened his own boutique four years ago. Momo le Bottier (his store's name) offers men's and women's models of irreproachable quality. "A proper pair of moccasins takes 40 hours to make," he explains. In the workshop at the back of his shop, seven young men put the shoes together with the utmost care. The boutique is so successful that there's a three-month waiting list.
Who said fashion had no future in Dakar?