In 2013, the Abdelraouf sisters launched Okhtein, a luxury bag company that has taken both Hollywood and the Middle East by storm.
The elegant women's minaudières (small, box-like handbags) worn in the 1930s have been updated by two sisters from Cairo. Passionate about fashion and obsessed with bags, the designers spent their youth going through their grandmother's old clothes. In 2013, Mounza (specialized in marketing) and Aya (who studied art and design in Cairo's American University) decided to come together to create Okhtein (Arabic for "sisters"), a high-end accessory business that creates "timeless, sensual and original" handbags.
In launching their brand, they wanted to pay tribute to Egyptian craftsmanship, and spent 18 months searching for the city's best artisans. Today, Okhtein is 100% Egyptian, employing 3 craftsmen full-time and 20 other specialists.
Emma Watson is a fan
For the weaving and embroidery on some models, the Abdelraouf sisters turned to charities that recruit women from Egypt's poorest areas – an act that caught the attention of none other than Emma Watson. Six months later, the Harry Potter star wore Okhtein's Palmette Flower bag to a film ceremony. Then Emma Roberts (American Horror Story, Scream Queens) and Emma Stone (La La Land, Birdman) were spotted with a model. Today, the marque is distributed in prestigious stores such as Bloomingdales in Dubai, Harvey Nichols in Saudi Arabia and Selfridges.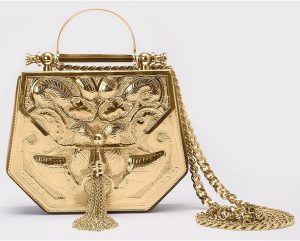 Ancestral know-how
Okhtein's first bag was a minaudière, an accessory invented in 1934 by the famous jeweller Charles Arpels (of Van Cleef & Arpels fame) after he saw the elegant make-up box carried by Florence Gould, the 3rd wife of casino owner Franck Jay Gould. More recently the Egytian brand has brought out a collection called Future Nostalgia, inspired by the cartoons Aya enjoyed as a girl.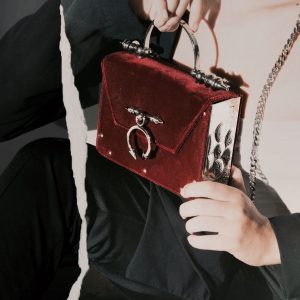 In collaboration with the ArtsMart School of Art, the Egyptian Autistic Society and the EducateMe Association (which seeks to improve Egypts education system), the sisters asked children to paint bodies onto the heads of cartoon characters, then used several creations on the bags—living proof that luxury fashion houses can support good causes when they put their minds to it.