Want to see the Savannah, the Garden Route, Namibian sand dunes, South Africa's best golf courses, and multi-coloured canyons? Jump aboard the Shongololo Express!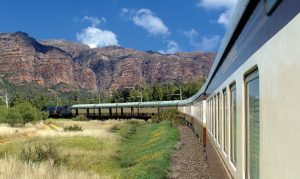 Picture this: A green and white train snaking its way through the Savannah. You, swaying to the "chit-it-ika" of the ride, a cool glass of wine in hand, staring out of your wagon onto a sun-drenched infinity broken only by the occasional giraffe. Founded in 1995, the Shongololo Express harks back to the golden age of train travel – an era when globe-trotting was synonymous with adventure and style.
In recent years, of course, the focus of travel has been on rapidity, with aerodynamic trains—TGV, ICE, Shinkansen, CHR—moving between cities at around 300 km/hour, sacrificing old-world charm for speed. Only a few mythical rail companies survive, notably Russia's Trans-Siberian Railway and Australia's Ghan, which still seduce passengers with silver service and postcard landscapes that aren't a blur as you travel past. The Shongololo Express, likes these, is all about living the experience at a relaxed pace. After the slow cooking movement, welcome to the world of slow travelling!
Old-world charm on a stick
The Shongololo's reconditioned 1950s wagons can accommodate 68 people, and have ample storage and wardrobe space. Suites offer en-suite bathrooms with WCs and showers. The Salon wagon is where travellers sip cocktails over a book and ever-changing views. Sometimes you can see the African wildlife; other times sand dunes pop up like mirages. At dinner time, it's over to the chic restaurant wagon for an antelope steak, or a Koeksister (a South-African donut-like pastry soaked in syrup). At nightfall, the moon turns the landscape into a silver-lit sea of silhouettes.
Itineraries for every taste
The Shongololo Express runs mainly at night. Daytime is given over to excursions with guides who speak English, Afrikaans, German and French. Route available include the 15-day Good Hope/Golf trip, which takes you to the best golf courses between Cape Town and Pretoria along the spectacular Garden Route; the 12-day Southern Cross circuit that links Pretoria to Victoria Falls via the Drakenberg mountains, the old Pilgrim's Rest mining town and Kruger Park; and the 12-day Dune Express route, which covers Pretoria to Walvis Bay in Namibia via Kimberley's diamond mine, Upington's wineries, the vast Kalahari desert and Canyon River Fish, the world's second largest canyon after the Grand Canyon. All aboard…