Thanks to AI and cloud technology, African developers are launching applications cheaply, and the Web giants have cottoned on.
A stream of forward-thinking apps are being created in Africa thanks to Artificial Intelligence (AI), and they're touching all areas of life: GiftedMom gives around 100,000 Cameroonian women access to information about pregnancy and anti-natal care, the Nigerian platform Utena helps people detect the early signs of respiratory distress (responsible for 900,000 deaths a year across the world), and M-Shule gives Internet users access to personalized tutoring. Another app (currently in the testing phase) has even been designed to help farmers identify crop disease, while Kudi lets customers pay bills through their smartphones.
Aside from their usefulness, the key to their success is connectivity, with the whole of the continent now very much connected. There are already around 350 million mobile phones in circulation, and that number is expected to double by 2020 (according to Deloitte Africa's predictions), notably thanks to the price, which has dropped from $80 to $30 for a mobile phone. In fact, in many areas, cell phones are the only means of communication, and an increasing number of Africans are using free services like Facebook,  Messenger, WhatsApp and Skype to avoid using up their paid subscriptions.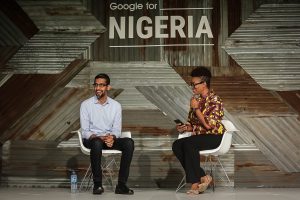 New technological advances, including cloud technology (which offers remote data storage for minimal or no cost), have allowed young developers to create apps cheaply, whereas in the past, they would have had to spend thousands on servers and licenses. Today almost everything is free on the Web, and most African apps use ready-made tools and programming interfaces (APIs), which speeds up production time.
Google is opening in Ghana
Needless to say, this wave of activity has attracted the attention of large international groups and Silicon Valley giants. Rewards and bonuses are being awarded to the most promising start-ups, notably through the Cisco Global Problem Solver and IBM's Watson AI Xprize, and Google has gone even further by announcing the upcoming opening of its first Artificial Intelligence research centre in Africa, in Accra, Ghana. The Lab will be led by Senegalese scientist Moustapha Cissé, who obtained a Ph.D in Computer Science at the Parisian University Pierre and Marie Curie before being recruited by Facebook. Accra will become the 11th city to host a Google AI research centre, alongside Paris, Zurich, Tokyo, Beijing, Montreal, Seattle, Boston, Tel Aviv and New York.
However, if Africa isn't just to become a back-office to tech giants, it needs to set up institutes that train future developers. Fortunately, major efforts are being made in this area: A master's degree in machine learning is available in Kigali in Rwanda (in collaboration with Carnegie-Mellon University), and other similar programmes are offered in South Africa and the Maghreb. The African Institute of Mathematical Sciences (AIMS) is also pushing its best students into innovation, hoping that AI will be a catalyst for the continent's scientific, educational and economic development.