With a stunning 2000-kilometre shoreline caressed by the Indian Ocean, the undiscovered gem of East Africa is a treasure trove of natural beauty free from mass tourism.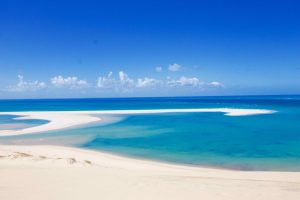 On his journey to India in 1498, the Portuguese explorer Vasco de Gama stopped for 5 days along a magnificent stretch of the southern African coast and called it the 'land of kind people'. It's a name that still rings true today, but it could just as easily be 'land of sheer beauty', for Mother Nature has spoiled this part of the world with lush greenery and beaches that look like Photoshopped dreams. Authentic and wild, gracious and refined, Mozambique is like a femme fatale: one look and you're in love.
With such a long coastline, it's not surprising that people associate the country with beaches, but halfway between the capital of Maputo in the south and the port of Beira in the North, lies a province filled with adventure: Inhambane. Home to a million lucky people, this magical expanse, lined with coconut and cashew trees, has three unmissable places for you to explore: Tofo, Vilanculos and Zavora.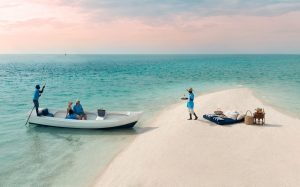 A diver's paradise
We arrive in Tofo (20 km from the town of Inhambane) at night, and fall asleep below a star-lit sky to the gentle sound of waves. In the morning, the surf laps the ivory sand against an infinite backdrop of turquoise water and cloudless sky. Some days we stay on the beach; others we head to the fishing village and its colourful market, which is crossed by a regular chain of men in 'frog suits' heading to the beach for traditional diving ceremonies. It's an unexpected and fascinating sight.
Almost all the tourists in Tofo have come for the marine life: whale shark (visible all year round), manta rays, dolphins and snappers (found October to May). It's also where whales are born between June and September, and where turtles come to lay in January. Unsurprisingly, its "ocean safari" dive is requisite. Surfing, kitesurfing, windsurfing, quad biking and horse riding also fill our days, each one ending with a majestic sunset.
Breakfast with whales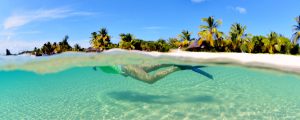 We could stay there all year, but soon, it's time for a Camel Trophy-like drive to Vilanculos, another oceanfront diver's dream. It's different there, but just as picturesque, with sun-kissed beaches where men haul kilos of fish, squid, crabs and shrimp onto the beach each afternoon, reminding us that fishing here is a way of life.
The one thing you can't miss is the sand dune on the island of Bazaruto, a 45-minutes boat ride away. It's one of the best spots in Africa for snorkelling and diving, like a giant aquarium with a surrealist mountain of powdery sand rising in the background.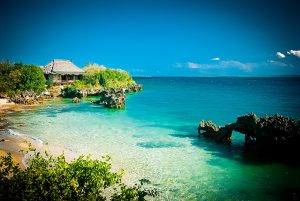 Inhambane's third must-see is Zavora, a sprawling beach between Tofu and Xai-Xai. We head there a few days later and sleep in Zavora Lodge, the only place to stay for miles around. If you're into whales, this is the place for you. There's a constant stream of them in the waters beyond. You can have breakfast with them at your feet (on a stilted terrace); you can dive with them; watch them breaching just metres from the sand.
If you can bear to tear yourself away, a bonus stop a hundred kilometres north of Inhambane is Pomene. It is one of the most remote, picturesque and authentic Mozambican places you can see. Accessible only by 4×4, via a route that takes you past arid landscapes of red clay and savannah, it's wild and beautiful, and feels (like the rest of the coast) like a wonderful secret.