The traditional Indian medicine of Ayurvda is popular around the world, from Europe to the Americas. Now two sisters have opened Morocco's first 100% Ayurvedic centre. My Chic Africa checked it out.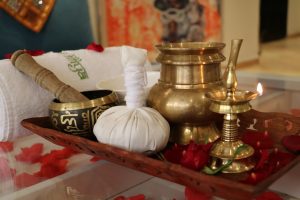 The story starts in Casablanca with Moroccan expat Sanae, a long-time sufferer of fibromyalgia, a little-understood condition that causes pain all over the body. Before discovering Ayurvda she was in a state of chronic discomfort and thought she would never recover. Today sitting in Lillya's waiting area next to her sister Bahia, she has a smile on her face as she recounts the epic journey that led to her to opening her country's first ever Ayurvedic centre.
"I fell ill when I was living in Malaysia, and tried all sorts of classic treatments and massages, but nothing worked. I thought I would be in pain for the rest of my life. At the American hospital in Dubai, they told me to try alternative medicine, so a colleague—who soon became my husband and business partner—recommended I go to Kerala in India to a typical Hindu village. The doctor there told me to stay for 40 days, which I couldn't do, but I went away with lots of Ayurvedic oils and treatment techniques that really helped.
Then I fell pregnant a few years later and the pain started again. Labour was hard and I got really depressed. I decided to try Ayurvda again and followed a 28-day programme that made me feel better after just a week. Plus I lost weight! I told Bahia we had to bring these alternative treatments to Morocco, and Lillya was born!"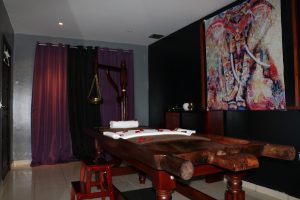 A way to listen to your body
The centre has only been open since February, but it has already been well received by the medical community. "We have ophthalmologists and traditional doctors who come to us and even send us patients," says Bahia, who has become so convinced by the experience that she plans to train as an Ayurvedic consultant. To be accessible to as many people as possible, Lillya offers inexpensive trial prices that only increase once you become a member. "We've tried to be as cheap as possible, but we employ expats, and our oils come from India because we can't find the right plants in Morocco," says Bahia, adding, that "you can try Ayurvedic treatments without going for it 100%, though".
Today Lillya offers healing, consultations, therapeutic massages and beauty treatments. "Ayurveda is the science of life. It allows you to get to know yourself, to listen to and respect your body", insists Bahia. As every person is unique, the sisters offer individual consultations with an Indian Ayurvedic doctor before each treatment. "This way we personalise the experience, especially the oils. Our qualified therapists work together with the doctors to offer the most appropriate care", adds Sanae, who stills lives in Dubai. She also hired the Ayurvedic doctor who treated her in the Gulf. Another consultant is there to advise on adapting the treatments to Morocco, where the climate and food are different from those in India.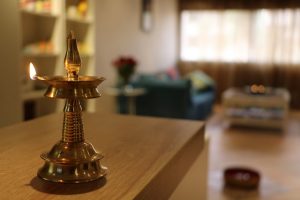 It's all about balancing energy
Because the natural oils used are tailored to individual patients, every one of Lillya's massages are customised. But all have the same aim: to stimulate the lymphatic system, release nutrients into the body and evacuate toxins. Whether you use Abhyangam, Nasya, Vasthy, Pichu or Tharpanam techniques, they regenerate the body, slow down ageing, stimulate sleep, improve the complexion, and strengthen and improve health. "We treat the cause not the symptoms," says Sanae.
To understand how the treatments work, you have to know what Ayurveda is. Bahia explains: "Three energies control the body: movement, transformation and the lubrication of the immune system. Every human has these energies, but in different amounts. Ayurveda steps in to keep them at harmonious levels, because trouble sets in when they're not balanced. The composition of the plants in the oils helps to regularise everything."
So, what are you waiting for?